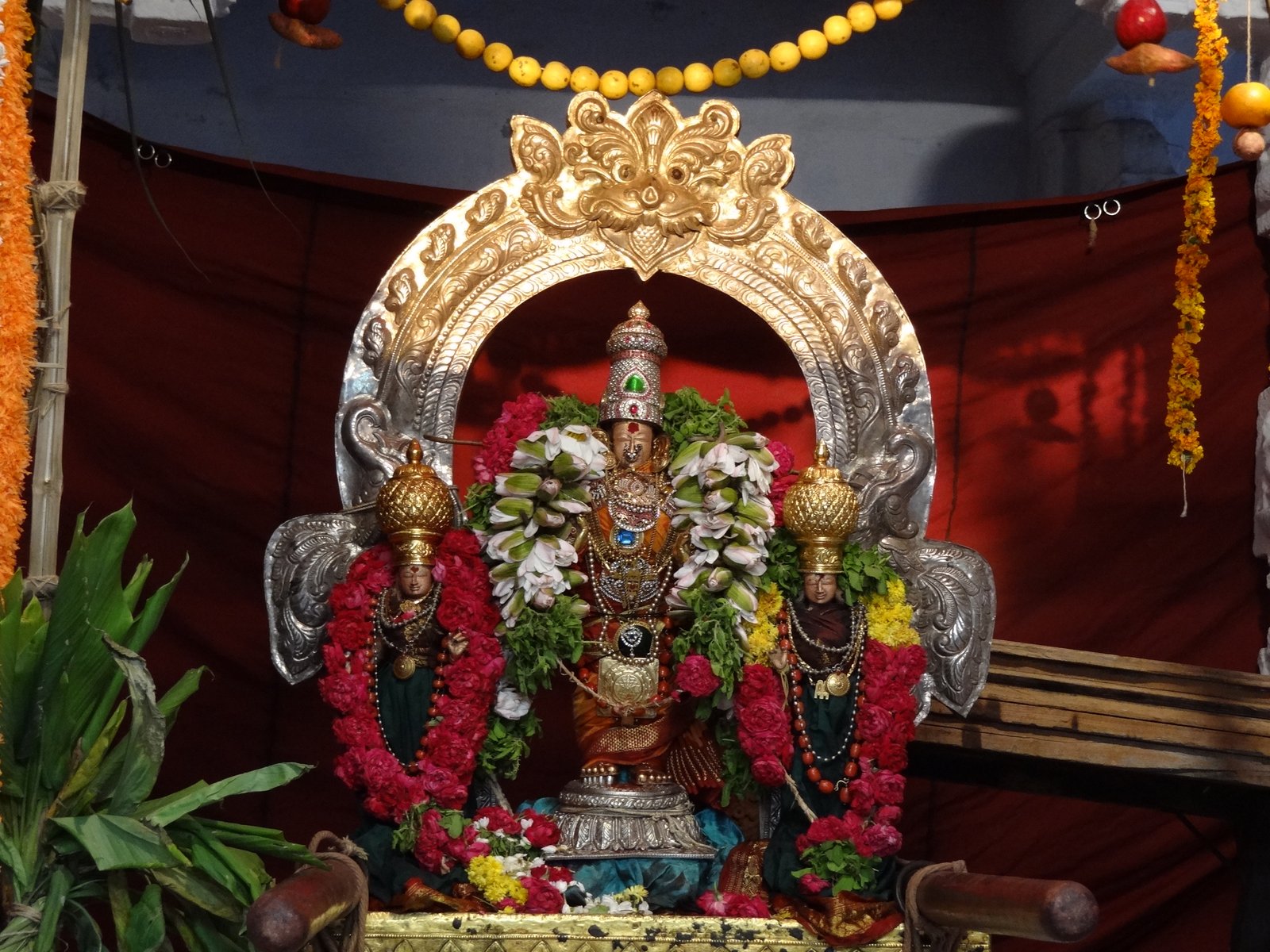 Goddess Kamakshi epitomizes the vibrant and limitless glory of creation. She is a magnificent manifestation of Sattva – The very existence or Being. Mookacharya, in his work named Mooka Panchasati, beautifully describes the Goddess thus:
धरणिमयीं तरणिमयीं पवनमयीं गगनदहनहोतृमयीम् |अम्बुमयीं इन्दुमयीं अम्बां अनुकम्पमादिमामीक्षे ||
The very being and essence of Kamakshi Devi is captured in this verse. Mooka Kavi experienced the compassion of the Goddess like no other. Right after Kamakshi devi bestowed her grace upon him, he documented his experience in 500 beautiful verses. 'Goddess Kamakshi is one of the oldest manifestations of 8 significant tattvas; Of Earth, Of Air, Of Sky, Of Fire, Of Water – the five elements, Of Sun, Of Moon and Of the Being', he says. Earth, being the representation of Forbearance. Air for sustenance, Sky for its limitlessness, Fire for its all devouring nature, Water for the source of life, Sun for the mind, Moon for the heart and the Being as a representation of Spiritual Awareness.
This coming together of life giving energies into one form is what is celebrated as Goddess Kamakshi at Kancheepuram. This temple town of South India, is one of the seven holy places in India that are etched with exhilarating spiritual experiences of yogis and saints en route to liberation. Forming the source of these spiritual experiences, is the all-powerful deity of Kamakshi devi.
The deity is so wonderfully benign and vibrant with Chaitanyam that just looking into her eyes could mark the beginnings of a breath-taking divine journey. She is said to have manifested herself as a young girl (Baala), at the request of the Devatas to end the tyranny of a demon named Bhandakasura. On to the right side of the deity is the cave (Bila), that is said to be the source of Her manifestation on this planet. Overlooking the Kamakshi temple is the towering temple entrance of her consort, the mighty Ekamranatha. Kamakshi devi is said to have performed great penance by banks of river Kampa. This is where under the shade of the large Mango tree, She devoted years in deep penance. She made a Sivalinga using the sand on the banks of the Kampa river. This linga is till date worshipped in the form of Ekamranatha in the temple. Years later, drawn by her penance, Siva too sought her companionship and thus began the holy union of Siva & Shakti once more.
This temple of Kamakshi devi has served as the center of many religious and spiritual landmark events in the country. Great saints like Adi Sankaracharya himself, chose Devi's presence to attain the state of all knowingness and self-realization. Further, singing her glory in Soundaryalahari, Adi Sankara says – 'Such is the energy of this powerful deity that Her grace empowers the human kind to breach all the material obscurities and transcend into a blissful way of living'.
May Goddess Kamakshi bestow Her kind grace upon us!